PASTORS' BIOGRAPHIES
Pastor Steve Hogan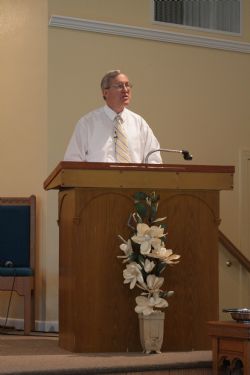 What a great privilege it is to know the living God and to be able to serve Him in my lifetime. Let me briefly summarize the gracious working of God in my life over the past 50+ years.
I was born and raised in Iowa, in a big family, and in a Catholic home. I was more religious than most Catholics - a faithful churchgoer, an altar boy, and a lector at the Mass. I truly thought that my good works would somehow get me to heaven, but I was quite mistaken.
After high school I attended Iowa State University. It was during my freshman year that my eyes were finally spiritually opened.I realized that I was a sinner and separated from God, and that Jesus Christ had died to pay for my sins. I then received Jesus Christ as my Lord and Savior, and became a child of God. Indeed, this was a major turning point in my life. For the rest of my time in college, I was involved in campus Christian groups.
After graduation, I taught school for a year, and was being taught important lessons on humility. But the Lord wanted me to move back to Ames, Iowa to get involved in a campus church. It was a church that was very zealous in the work of Christ. For the next few years I was involved in reaching out to college students. It was during this time that I was recognized first as a deacon, and then as an elder.
In 1983, I transferred to a sister church in Maryland. During the years that followed God continued to faithfully train me, particularly learning from the faith and love of others. And part of that training was God placing me into different ministries - students, singles, conferences, follow up, financial, and Sunday School.
Two major events took place during this time. Number one, I got married. It was 1986, and her name was Marsha Morrone.
She has been a great blessing, helper and companion. God then blessed us with four children. The other major event involved our church. Over a 3-4 year period of time, we gradually became a "Seeker Service" church - that is, our focus was on the unsaved, not on the believers. Our Sunday Service was an evangelistic service. This question of church philosophy was debated and discussed for over two years, culminating in a "church plant," - or let me say, the division of our church.
This was a very difficult time for us as a church, but God in His own sovereign way was working it all together for good. For my own life there were a number of positive results.
- My understanding of my role as a pastor, and of the purpose of the church was clarified.
- I had a great hunger to learn from God's Word - truths about God, Christ, salvation, the church, and eschatology. I read books, listened to tapes, and went to conferences.
- As I taught more, I realized God had given me a teaching gift. I realized the importance of teaching God's Word expositorily - verse by verse, of finding the meaning of God's Word by prayer and careful study, and then clearly and passionately communicating His Word to the people.
The ninety's were good years, growing years, foundational years. Even though I had never been to Bible college or seminary, I knew that the hand of God was upon me, and that He in His own way and time, was training me, through His Word, the Holy Spirit, and godly men. It is God who raises us up for a purpose, a place, and a particular group of people. After five years of shepherding the believers, and five years of growing in my convictions, God made it clear to me that He wanted me to move on. There was an opening for a teaching pastor in Tampa, Florida, a church that was affiliated with our Maryland church.
It was 1999 and my family and I moved to Florida. What a dramatic change - the church, the culture, the weather, and of course the relationships. More than ever before, I felt the need to cry out to God and ask for His help. And God has answered. Indeed, the years since 1999 have been good years - teaching the Word, loving people, leading the church, and working with Gary, a faithful and devoted co-pastor. One of the biggest miracles since that time was our merger with Hillsborough Christian Community Church in 2004.
I am very thankful that God chose to save me and use me as His servant through all these years.
Oh, the depth of the riches both of the wisdom and knowledge of God!
How unsearchable are His judgments and unfathomable His ways!
For from Him and through Him and to Him are all things. To him be the glory forever. Amen.
Romans 11:33, 36